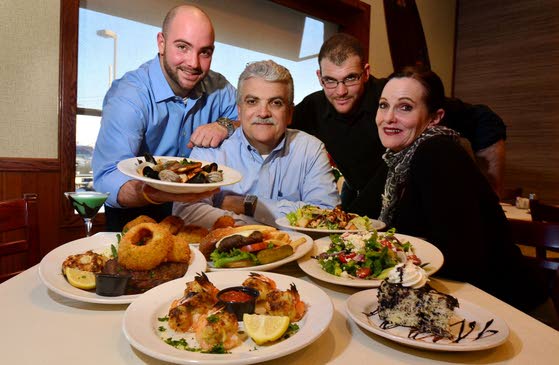 When Steve Tiniakos, 59, arrived in the United States from Athens, Greece, in 1972, he had never spent one day working in a restaurant. Fortunately, his many relatives already here got him a job in a family diner at the ripe old age of 21.
Since that time, like many in his family, Tiniakos has done it all. Starting as a dishwasher, the always-industrious Tiniakos worked his way up to cook, chef, manager and owner.
After years at the Shore Diner, Tiniakos opened The Windjammer on MacArthur Boulevard in Somers Point, bringing along with him his entire family, including wife Virginia, 54, and sons Stratis, 26, and Dimitri "Jimmy" Tiniakos, 25. A member of the family is always around the restaurant, front of the house or in the kitchen, ensuring that every plate is perfect, every customer satisfied, just the way Tiniakos was taught to do it along the way.
It was at Ponzio's in Cherry Hill where Tiniakos started as a short-order cook; by the time he left, he was a part-owner. After working at other relatives' restaurants in Pennsauken, Vincentown and Burlington, the then well-rounded restaurateur took his place in the front of the house.
Tiniakos moved his family to the Jersey shore in 1992, purchasing the Shore Diner in Egg Harbor Township with a group of friends, then selling his shares in the successful business about 2 ½ years ago to pursue something new. Passing over properties on the road into Ocean City hampered by construction, the family began to look elsewhere for a location for their new business, quickly realizing that the address of the former T.G.I. Friday's restaurant could become the busy location they were looking to build.
"The average consumer in today's world knows good food," Tiniakos says. Especially when it is served in a pleasant environment with a friendly staff and reasonable prices. Tiniakos believes that is why they are already busy in the normally slow season for restaurants.
All the members of the family came into the restaurant business in different ways. Jimmy didn't want to go to church one Sunday morning so his dad offered to take him to work instead. Bringing him to the basement storage area, his dad helped him lift a 50-pound bag of onions onto his shoulder to carry up to the prep area, teaching him how to peel the onions. Hours later, Jimmy proudly walked into his dad's office, having finished the entire bag.
"Go get another bag," said the senior Tiniakos.
After carting and peeling three more bags of onions, Jimmy knew better than to go tell his dad that he had finished. At 10 years old, Jimmy was already learning about the hands-on work and dedication involved in operating a restaurant. "He went to church every Sunday, after that," Tiniakos says.
By the age of 14, Jimmy worked in his dad's restaurant, doing whatever needed to be done; washing dishes, peeling carrots, peeling potatoes. He always hoped for a "position" in the kitchen. Ever watchful of the line cooks, one Mother's Day when a cook didn't show up for work, Jimmy got the position of making toast for the hundreds of customers streaming through the doors. His first time on the line, and he was hooked. When the chef had an accident and couldn't work, Jimmy took the opportunity to learn how to operate the kitchen. Attending classes at the Academy of Culinary Arts in Mays Landing, Tiniakos decided to transfer to the Culinary Institute of America in Hyde Park, N.Y., where he received his associate degree. "Both schools were a great experience," Jimmy Tiniakos says.
The Windjammer opened Oct. 11, after what Steve Tiniakos termed a "vigorous four-and-a-half-month remodeling." The tired outside has been refaced and the dark interior has been opened into one large room with plenty of natural light, letting potential customers know that this restaurant would be something different. "Most people think this is a brand-new building from the bottom up," says Tiniakos.
While the family worked together offering input in creating the menu, Jimmy took the lead, using his culinary training to devise a menu that would offer something for everyone. Since their last family restaurant worked so well, Jimmy took the core of that menu to build upon, then used what he had learned working at other restaurants after his culinary education had finished.
A stint at Phillips Seafood in Atlantic City taught him about quality seafood; Fleming's Prime Steak House in Marlton increased his knowledge of grades of beef and how to get the most out of each cut.
"Both were awesome experiences," Tiniakos says. The menu at the Windjammer is much larger than those other places Tiniakos worked at, serving breakfast, lunch and dinner. He took the best from all those places to incorporate into his own menu, creating a diner like no other in the area.
Popular dinner choices include the broiled jumbo lump crabcakes. What's the chef's secret? "Good quality crab meat, and a lot of it," Jimmy Tiniakos says. Jumbo lump crab meat is lightly bound, with no filler. Paired with a rib-eye steak, it becomes the Windjammer's version of surf and turf called Land and Sea. With mashed potatoes, grilled asparagus and homemade onion rings, the dish is a winner, since everything is made from scratch. Mashed potatoes are made two, three or four times per day, depending on demand. Onion rings are hand cut into thick slices and panko-coated. All soups and sauces are made from scratch in the Windjammer kitchen.
Jimmy Tiniakos goes to the fish market every day, searching out as much local fish as possible. Local scallops, too. Beef is certified Angus, selected from the top 8 percent of all graded beef. Half-pound burgers are made from fresh ground chuck made daily, seared on a hot grill, and seasoned only with salt and pepper.
Tiniakos notes that if something doesn't sell, it is taken off the menu, and that means that everything on the menu is a superstar. Probably because of the attention to detail that the Windjammer staff gives to every item.
Daily specials are listed on an insert in each menu. Specials depend on what Jimmy Tiniakos finds at the market on his daily trip. This day, pan-seared branzino, a Mediterranean sea bass, was being served on a bed of sun-dried tomato and cremini mushroom orzo with mussels and clams cioppino style. The great thing about the Windjammer menu is, you can have the branzino while the family member on a diet can have a great salad, and the kids can choose from a menu of their own.
Both Tiniakoses like to think of their menu as American, with some Italian dishes, some Southwestern and some Asian-inspired dishes available. Something for everyone.
"And then we have breakfast," Tiniakos says. The kitchen cooks their own Idaho potatoes fresh everyday.
"Ingredients are important to us, brands are important. Details, details." says Tiniakos. "We are very picky when it comes to using the best ingredients."
Already very busy, the family has begun prepping the facility for what potentially is going to happen when the summer crowds arrive.
"Everything that is served here is baked here," Tiniakos says.
So along with training staff, they are already making plans to install more refrigeration outside to permit the bakers to prepare more product.
Jimmy Tiniakos says that it is easy to pick up the phone to order 20 cases of breaded mozzarella sticks and put them in the freezer.
"It's the easy way out," says Tiniakos, choosing instead to cut and bread them in his own kitchen. "We care about the way things are prepared. The recipe is simple, we give the best quality that we can find. Not every restaurant can offer that, but the customer appreciates it when it comes to taste."
Consistency is central to their business. Steve Tiniakos learned from his mentor that there is nothing more important in the restaurant than quality; something he has taught his sons, and they have taught the staff.
"When a customer takes the time to drive to our restaurant, we want to make sure that they are rewarded for making the trip," says Tiniakos.
For the customer, that reward is dining in a hybrid restaurant of the future.
Solid courses
Most entrees at the Windjammer include soup or salad, two vegetables, bread and butter. All of the desserts are made on the premises by their own baker.
Sautee station
From the sautee station you can order veal medallions, chicken breasts or shrimp with your choice of sauces: piccata, marsala, Sorrento, Francaise or scampi.
Keep it private
The Windjammer has a casual, semi-private dining area perfect for parties, meetings and special events such as anniversaries, birthdays, baby showers and cocktail parties with a full bar.
Article Courtesy of The Press of Atlantic City